It's Official… School is officially Open! This week the District finally received the actual, real, legal, and authorized certificate of occupancy for our New Harrah School Campus. It came in the mail from the City of Union Gap, who oversaw the inspections and requirements since the Town of Harrah has no such department. It arrived in the mail and Mr. Crawford was beside himself with excitement, since most of the fine tuning and work toward completion was on his "Other duties as assigned list."
Good News! The District has secured a private donation that will provide $1000 for our literacy/reading efforts from the Yakima Valley Partners for Education. The Mt. Adams team has met and decided to purchase library books for our new Harrah Campus Library that will be culturally relevant books that fall within the Native American literature genre for Elementary and Middle school age students. We will purchase books from this website:
https://coloursofus.com/32-native-american-childrens-books/.
Credit Retrieval Opportunities for students! We know that remote learning was difficult for many of our students and this has resulted in some credit deficiencies at the high school. We are offering several credit retrieval opportunities as well as after school tutoring for students. We have tutoring between 3:00pm and 5:00pm with Mr. Jackson Berry on Monday, Tuesday and Thursday. If students wish to attend this time and use our online credit retrieval program, they need to contact Mrs. Sheppard to sign up for the correct class(s). If they would like to do online tutoring or credit retrieval from home, they need to contact Mrs. Barbosa to sign up for the correct class(s). Mrs. Barbosa is also available on Tuesdays after school for students needing help with their online classes. If families or students have any questions they should contact Mrs. Sheppard or Mrs. Barbosa.
Principal Tenney does "The Necessary Hallway Duty," in order to help students be successful. Spring has Sprung in the Middle School campus so Mrs. Tenney has moved her office to the hallway in the middle school in order to help students remember behavior expectations in order to be Respectful, Responsible, and Safe. Teachers are re-teaching PBIS expectations during Charger Connection classes, which will help maintain a respectful and safe learning environment in and out of the classroom. Way to go Mrs. Tenney!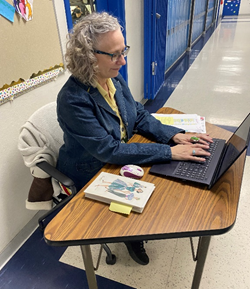 State testing will be on the White Swan Campus will begin on April 18th.
| | |
| --- | --- |
| TEST | DATES |
| ELA test | April 18th- April 22nd |
| Math test | April 25th – April 29th |
| Science test | May 2nd – May 5th |